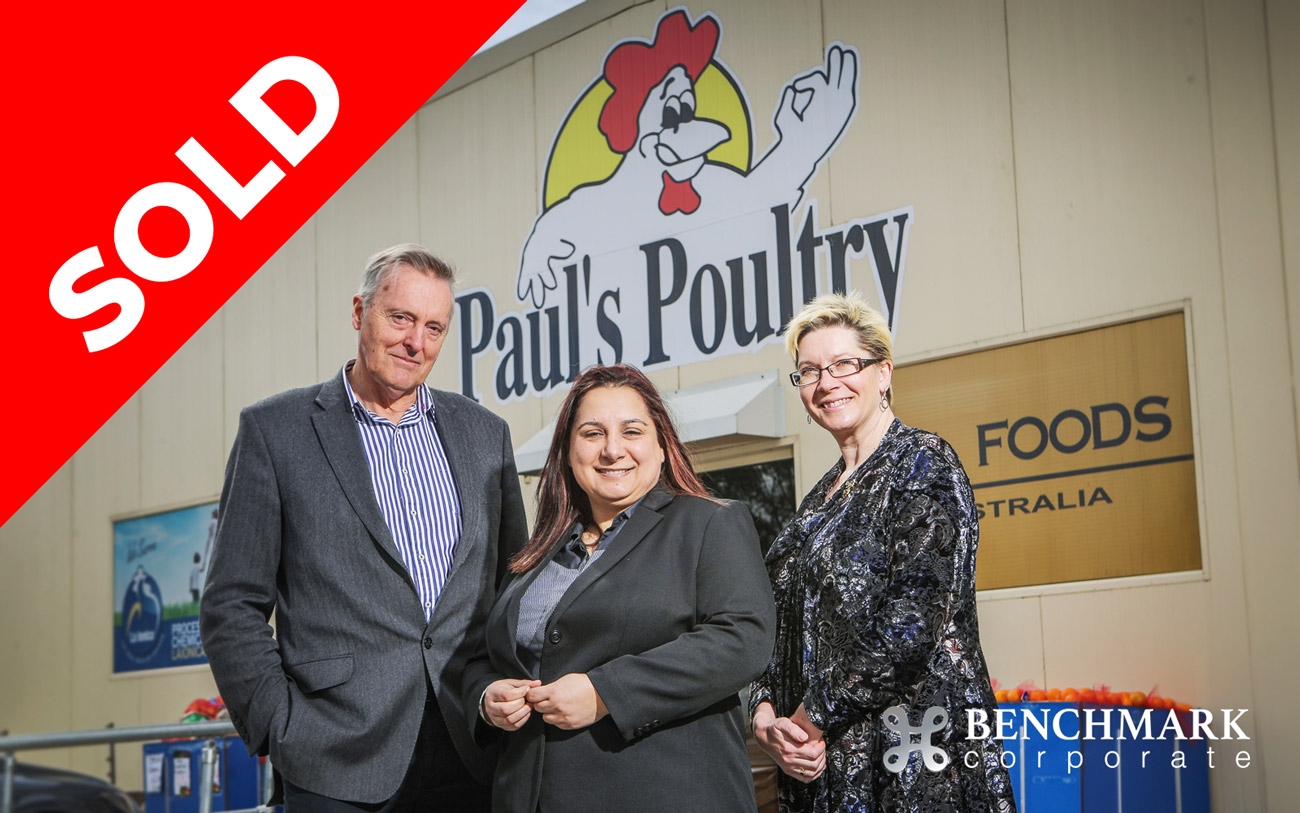 Successful Sale of Paul's Poultry Group
Major Victorian Meat & Poultry Processor Sold!
Benchmark Corporate's Emil Parthenides is pleased to have brokered the sale of Paul's Poultry Group which has been sold to B&E Foods for an undisclosed amount.
  Paul's Poultry Group has been a leading Victorian meat & poultry processor, value adder & wholesale business for over 30 years. Paul's Poultry products are distributed to Private & Public sector, leading hospitality, hotels, nursing homes, childcare & independent retail outlets across Victoria.   Advisor to the Paul's Poultry Group – Emil Parthenides commented: "There was considerable interest in the Paul's Poultry Group from private equity and other local & international trade buyers however, B&E Foods was the vendors preferred option."   The acquirer B&E Foods is a boning specialist and a respected wholesaler of quality poultry products.Their humble beginnings date back to 1991 when Bill and Lucy Dong opened up a small retail chicken shop and butcher in Canley Vale NSW, named it as B&E Poultry. In 2003, B&E moved into a factory complex in Smithfield and commenced their wholesale distribution business. 2010 saw B&E expand interstate and launch another processing factory in Ormeau, Queensland, and in 2014 B&E moved their NSW operation to its current location in Blacktown. Today, B&E continues to be privately owned and operated, and has grown to one of the largest poultry processors in Australia offering jobs to many local families. The acquisition provides B&E with an extension into Victoria from their operations in NSW & QLD. The acquisition includes all staff & current management.   Emil Parthenides recently advised on the sale of Festival City Food & Wine which settled in July of 2017 & Select Food Group which settled in October of 2017. Emil confirms activity is high for Food Distribution / Food Manufacturing & Food Processing assets with a number of current clients under due diligence & awaiting completion.
Thinking of an exit and unsure of next steps? Call the authority on Food Service Sales!
Emil Parthenides
Sales Director – $5M to $50M
Email: emil@benchmarkcorporate.com.au
Mobile: 0412 817 059
Click here to view Emil's profile and listings.