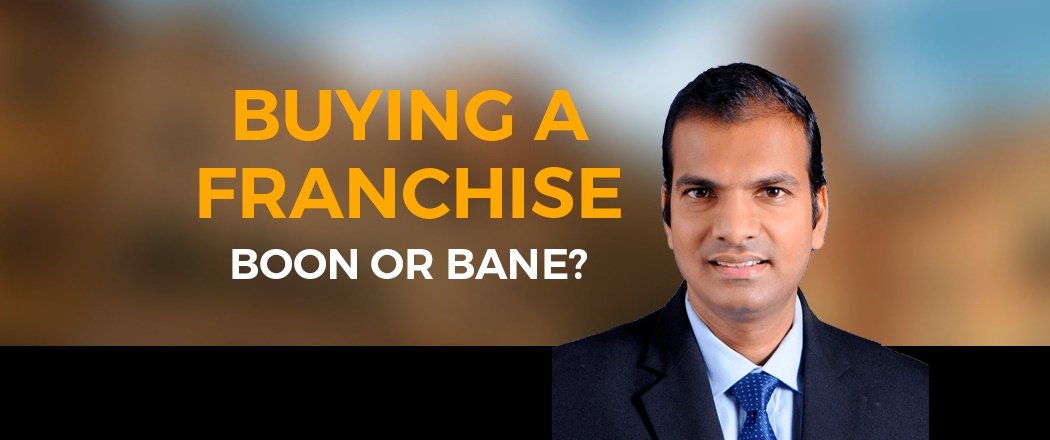 Buying a Franchise – Boon or Bane?
Taking the first steps towards buying your own business is a big step by itself, but then comes various questions Which? What? When? Where? Relating to the business you want to start. Let's see about Franchise Business model for your new business in this blog. When you start a business you have to learn new laws and ways of doing business depending on the sector, it may be difficult and some give up even doing business because of many obstacles which come in their way. Boon?
The franchisor will provide you with a system to follow with clear instructions. In my view, if you follow the system and policies "it's easy doing business".
The franchisor will provide not only a lot of support to help you learn the business, but also manage many elements of the business like Suppliers, Products, Marketing, Pricing, Promotions, Training, Maintenance, Staff Training & Pay Structure, Store Layout, etc. Most Franchise stores are turnkey operation.
The franchisor will provide you with ongoing support and guidance to operate the business. You don't need business experience in most franchise business as the franchisor will train you and set up the business for you. You can also benefit from the brand image the franchisor have already established.
Franchises have a higher rate of success than start-up businesses. It may be easier to secure finance for a franchise.
They do this mainly because their Success depends on your Success.
Bane?
Franchisor's dictate how you should run the business, what to do in the business, what to sell and what not to sell, who to buy supplies from, what promotions can be run, etc.
Location availability is solely dependent on the Franchise availability and if you are buying an established Franchise good locations comes with a higher costs.
Franchise Business means ongoing profit sharing with the franchisor & even if you are good operator it is up to them whether to renew your term at the end of the agreement.
Franchise can be easy to get into model, but the major part of success of it depends on the Franchisor's Brand Image, so you're dependent constantly on outside factors no matter how well you operate your business.
Franchise Business in no guarantee for success but definitely an easy model for any novice in business, all the principles required to be successful in business applies to franchise business as well. When buying a franchise do your research of the brand and the business you are buying, make sure your investment will generate good returns and a capital gain when you sell. Always have an Exit Plan Ready!   Karthik Arasu -Service Station Specialist 0422 3140 325   Businesses for sale quick links Businesses for sale Gold Coast | Businesses for sale Brisbane | Businesses for sale Melbourne | Businesses for sale Adelaide | Businesses for sale Sydney